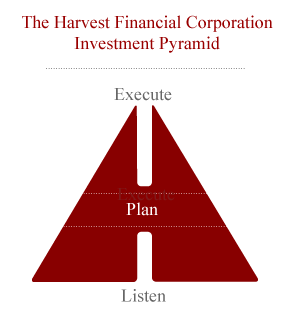 Welcome to Harvest Financial Corporation- a Pittsburgh, Pennsylvania-based full-service brokerage and investment management firm.
At Harvest we take the responsibility of helping you managing your financial future very seriously.
Harvest Financial Corporation has been helping plan clients' investment strategies since 1981 - and our four principals have over 125 combined years of financial service industry experience.
The firm is headquartered in the historic Benedum-Trees Building in downtown Pittsburgh, has branches in South Hills and Fox Chapel and associates and consultants throughout the Western Pennsylvania area.
With our expertise, facilities, and consistent philosophy, Harvest Financial Corporation provides professional investment management and financial advice to individuals, corporations, estates, trusts, pension/profit-sharing plans and endowments.
We believe specific objectives require a specific plan. That's why we listen to you first, often and throughout our process. Only after we have formulated your personalized plan do we execute.
Remember, It's not just your money.....It's Your Future.
Owning a home or having substantial equity may offer financial benefits in retirement. Discover five ways to use or increase home equity.

A Unit Investment Trust is structured differently than a mutual fund or ETF. Could its unique features help you ladder your investments?

Many requirements that made it difficult and expensive for small businesses to reorganize using Chapter 11 have been loosened. Learn more.

Have you heard of the No Surprises Act? Taking effect in 2022, it helps protect consumers from large, unexpected medical bills. Learn more.
Use this calculator to estimate how much income and savings you may need in retirement.

A balance sheet summarizes your assets and liabilities and reveals your net worth.

Estimate the future value of your current savings.